The Costa Rican government announced a national state of emergency this week in response to a dramatic surge in migrants crossing its southern border from Panama. Authorities report that over 60,000 migrants entered in September alone, straining limited resources.
President Rodrigo Chaves declared this emergency measure in a press conference alongside officials from the National Emergency Commission (CNE) and his administration. This decree will pave the way for additional funding and operational capabilities to handle the influx of migrants, mostly extra-continental individuals aiming to reach the United States.
CNE President Alejandro Picado stated that Costa Rica has welcomed approximately 386,000 migrants this year, with the vast majority passing through the border town of Paso Canoas between Panama and Costa Rica. Just last week, 25 unruly migrants were detained and now face deportation following clashes with police in Canoas.
President Chaves stressed that peaceful passage would be allowed, but any disrespect towards the authorities will not be tolerated. Migrants will be rerouted from Canoas and bussed to the northern region of Costa Rica. However, he cautioned that Costa Rica's compassion should not be mistaken for weakness.
The migrant wave comes after a treacherous 266 km jungle journey known as the Darien Gap, which separates Colombia and Panama. For many extra-continental migrants from countries like Venezuela, Cuba, Haiti, Ghana, and Somalia, navigating the roadless Darien jungle is their sole option for heading north.
Once in Panama, Costa Rica is the next stop. Nicaragua, Honduras, Guatemala, and Mexico also feel the impact of being part of the primary transit corridor to the U.S. Regional cooperation and international assistance have become vital to manage this surge.
In a recent meeting at the White House, U.S. President Joe Biden and Costa Rican President Rodrigo Chaves joined forces to discuss pressing immigration issues. The two committed to bolstering avenues for legal immigration, responding to the growing wave of Central American migrants dreaming of the American dream.
A historic encounter between Presidents Rodrigo Chaves of Costa Rica and Joe Biden of the United States.
The atmosphere in the Oval Office was one of mutual respect. Biden, with his signature handshake, commended Costa Rica for its exemplary leadership in facing migration challenges, especially in critical areas like combating organized crime.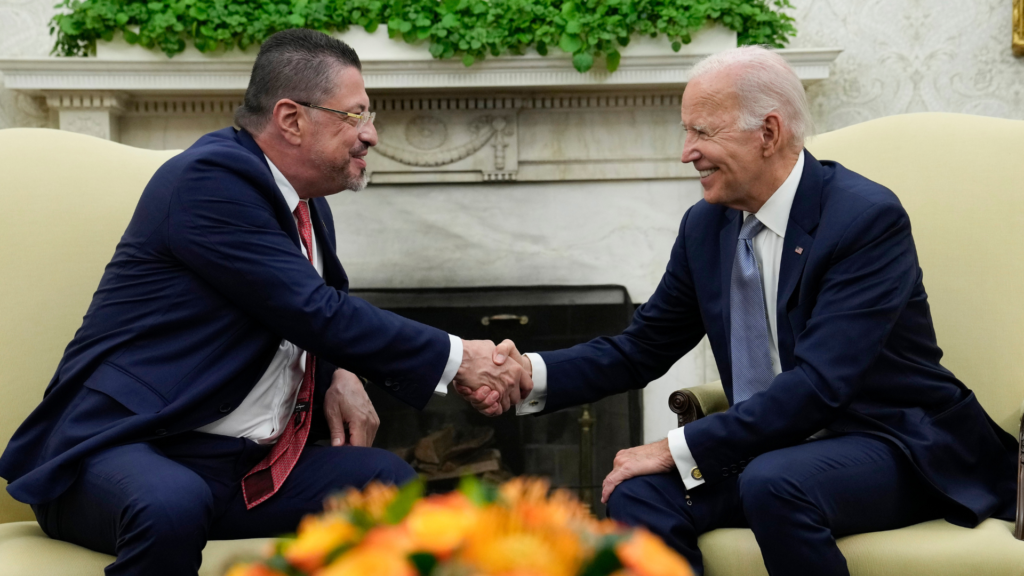 A look at the figures underscores why this meeting was so pivotal. Costa Rica, with its 5.5 million inhabitants, is witnessing a significant influx of Nicaraguans fleeing their homes. Addressing this, San José and Washington have rolled out an ambitious program named « Safe Mobility », on trial for six months and also adopted by countries like Colombia and Guatemala.
This initiative aims to assess refugees and migrants for potential resettlement in countries like the U.S., Canada, or Spain. Two specialized centers have been established where migrants can present their cases.
With this national state of emergency, the Costa Rican government will also have tools and additional funds to maintain border stability, care for migrants in need, and minimize the impact on local communities.
However, leaders agree that the migration crisis cannot be tackled alone. International cooperation is not only significant but also urgently required.
---