The General Directorate of Migration in Costa Rica (Dirección General de Migración y Extranjería Costa Rica) has announced a decree (no 44187)) that now makes it possible for foreigners visiting Costa Rica to obtain visas of 180 days, doubling the 90-day period that was previously allowed.
Across social medias, tourists and expats are welcoming and celebrating the news – but hang on, there is catch if you are driving in Costa Rica! Read carefully below.
"From now on, according to the immigration office, they will give people 180 days instead of 90," said Marcela Gurdian, an Immigration Expert attorney in Costa Rica. "That means anyone coming to Costa Rica will be able to stay for six months without doing the border run."
This development will be happy news for expats and "perpetual tourists" living in Costa Rica without residency. They've always been required to leave the country every three months just to get their visas renewed. Now they'll need to make that border run only twice a year instead of four times.
The new law applies to people from countries that are currently not required to obtain a visa before they can travel to Costa Rica. This includes the United States, Canada, most European countries and several others.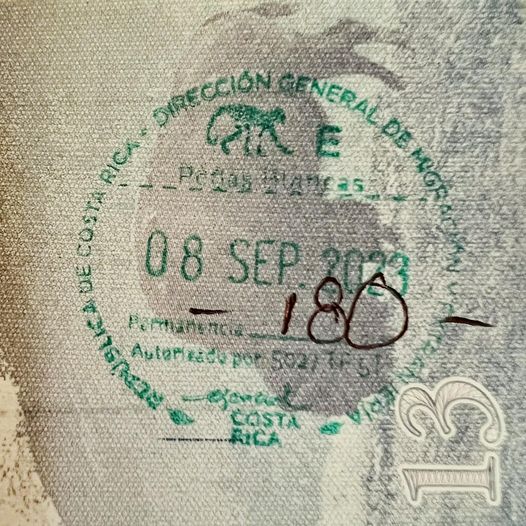 In case you already entered Costa on a 90-day visa and you're hoping to extend that to 180, Marcela Gurdian says that will not be possible. She says the law went into effect, Friday, Sept. 8.
"For people who are now entering Costa Rica, they will have to show an exit ticket for 180 days. Let's remember that the DGME official competent to carry out the control of entry to the country, will be the one to decide how much is the term to be granted, 10, 15, 30, 90 or up to a maximum of 180 calendar days from the date of your entry.
Under longtime Costa Rican law, anyone who enters the country on a tourist visa needs to show an exit ticket, proving they've booked a flight to leave the country within 90 days. (If traveling by land, a bus ticket is also sufficient.) That practice of the of the law has not changed.
The new regulations will surely be tested soon by the hundreds of thousands of foreign tourists who fly into Costa Rica every month. Costa Rica currently welcomes about 2 million visitors a year by air, down from a pre-pandemic high of 3 million.
New 180 days tourist visas in Costa Rica: hang on, there is a catch!
Unfortunately, the new law does not change the rules about driving in Costa Rica with a foreign driver's license. Foreigners are allowed to drive for a maximum of 90 days, and then they must leave the country to renew their visa.
Foreign licenses "are valid for only 90 days," Marcela Gurdian said, "because the law specifies only 90 days." For driver's licenses, the relevant law is the Transit Law in Costa Rica. While there may be some overlap between these two government ministries in Costa Rica, each has its own distinct laws and procedures.
It is important to note that any changes to the immigration law must align with superior laws and the constitution of Costa Rica. As such, even with modifications to the law, foreign driver's licenses will still be regulated by the Transit Law and not the Immigration Law of Costa Rica.
If you're stopped by the police, they'll want to see your foreign driver's license and your passport, and they'll check the date of your last entry visa.
If it's more than 90 days old, you're driving illegally. Police can take away your license plates, and to get them back you'll need to go to the border to get a new visa, in addition to paying potentially heavy fines.
Note: driving without a with a driver's licence that exceeds the 90 days allowed by the Costa Rica Transit law, means you are driving illegally, and your car insurances become invalid and that can cause you may problems in case of an accident in a foreign country. So, beware!
---