Costa Rica is positioning itself on the global stage as a booming tourist destination, exhibiting remarkable optimism. Its airports are buzzing with pre-pandemic levels of activity, surpassing all expectations.
However, a question emerges regarding the country's infrastructure capacity. Can Costa Rica meet the needs and expectations of tourists given its growing popularity?
Indeed, the Costa Rican Institute of Tourism (ICT) anticipates an influx of 2.3 to 2.5 million individuals seeking Pura Vida before the year wanes, reminiscent of the historic peak in 2019 with its 2,418,300 visitors. This trend, according to ICT experts, promises an annual growth of 5% starting from 2024.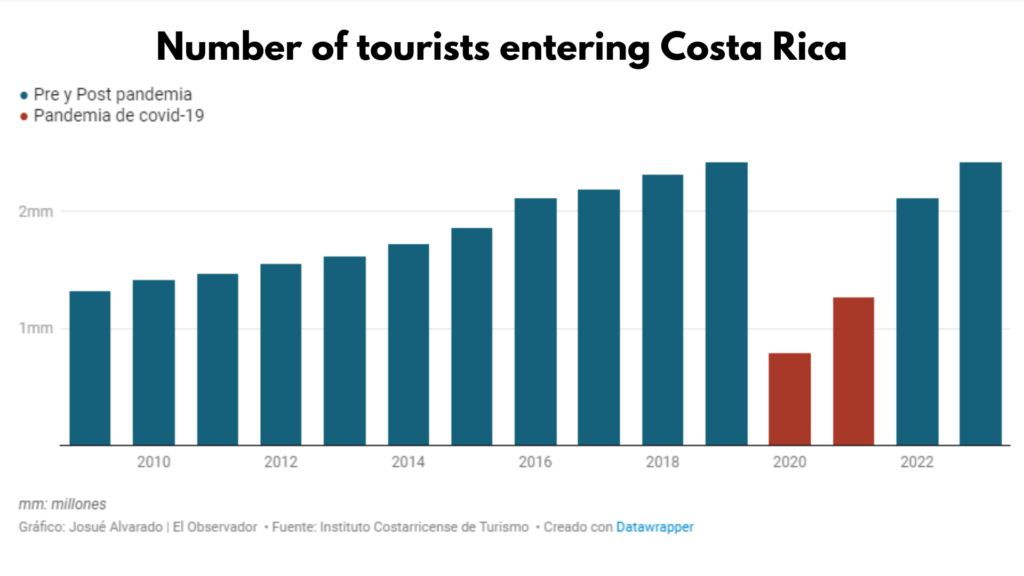 Yet, behind the scenes of this idyllic picture, Costa Rica faces a significant challenge: to match its flourishing tourism industry by strengthening its public infrastructure.
We cannot overlook the fact that some of our tourist sites suffer from a glaring lack of public infrastructure. These shortcomings also affect the quality of certain roads across the country.
In my opinion, Costa Rica is at a crucial point in its tourist development. The decision between attracting a larger volume of visitors or targeting a more exclusive and high-spending clientele will define not only its identity as a destination but also its future ecological and social impact.

William Rodríguez, Minister of Tourism for Costa Rica
The minister is fully pleased with the dynamic growth of private infrastructure, particularly highlighting the emergence of four new high-end hotel establishments in the province of Guanacaste. These projects promise to increase accommodation capacity and enhance the quality of stays for high-end tourism.
As an example, let's mention the ambitious construction of the Waldorf Astoria hotel, which will be ideally located between Playa del Coco and Playa Hermosa at the very heart of Guanacaste. Moreover, the municipality of Carrillo has recently approved the promising project of a Marina in the bay of Playa del Coco, demonstrating the growing interest in the tourist development of the region.
This would involve investing in robust and sustainable public infrastructures that can not only improve the safety and quality of the visitors' experience but also strengthen local communities.

Richard Lefrançois, expat in Puerto Viejo, Costa Rica
The National Chamber of Tourism (Canatur) and the Association of Tourism Transporters (Asotranstur) do not hide their concern, especially in the face of security risks on essential roadways, such as the road between Barranca and Limonal.
Furthermore, the frequent closures of route 32, a vital artery to the Caribbean, disrupt the plans of professionals and alter the experience of visitors.
This crossroads of strategic decisions will be decisive for Costa Rica's future as a global tourist sanctuary. In anticipation of a response, the country continues to shine, inviting the world to explore its natural wonders, while forging its path towards a future where sustainable development and innovation go hand in hand with Costa Rica's legendary hospitality.
Costa Rica must take care not to sacrifice its natural heritage and environmental integrity for short-term profit. Careful planning and collaboration between private and public sectors will be essential to navigate this strategic crossroads.
In the end, if Costa Rica can successfully balance its tourism ambitions with its commitment to sustainability, it could well establish a new standard for global tourism in the post-pandemic era.